Call by the ABC Südwest:
+ sorry no translation yet +
In Zeiten des staatlichen Angriffs gemeinsam solidarisch kämpfen!
25.05.2019. Gegen die erneute Verschärfung des Polizeigesetzes in Baden-Württemberg
Derzeit wird in Baden-Württemberg (BW) eine weitere Verschärfung des Polizeigesetzes (PolG) vorbereitet, doch im Gegensatz zur letzten Novelle, die ohne großen Widerstand Ende 2017 verabschiedet wurde, formiert sich endlich der mehr als nötige Widerstand gegen diesen weiteren autoritären Angriff des Staates.
Beginnen wir mit einem Rückblick: 'Mit dem im April 2017 verabschiedeten neuen BKA (Bundeskriminalamt) Gesetz startete die Bundesregierung eine Law and Order Kampagne, die sich zum Ziel setzte bundesweit die Polizeiaufgabengesetze, die Ländersache sind, zu verschärfen. Diese außerordentlich erfolgreiche Kampagne hat seitdem in vielen Aspekten der Polizei auf Bundes- und Landesebene neue Überwachungs- und Repressionsmittel in die Hand gegeben. Von Trojanern über "Ewigkeitshaft" zu Handgranaten ist alles dabei. Trotz der massiven Einschränkungen von Grundrechten, wurde das Polizeigesetz (PolG) in Baden-Württemberg im November 2017 ohne nennenswerten Protest verabschiedet und ermöglicht der Polizei nun Aufenthaltsanordnungen, Kontaktverbote, Trojaner-Einsatz, intelligente Videoüberwachung und selbst den Einsatz von Handgranaten. [1]' [2]
the full call online here and as a printable zine.
Demo Speech
Some people in solidarity made a speech out of our call against the new police law in Freiburg. You can have a llisten here (German).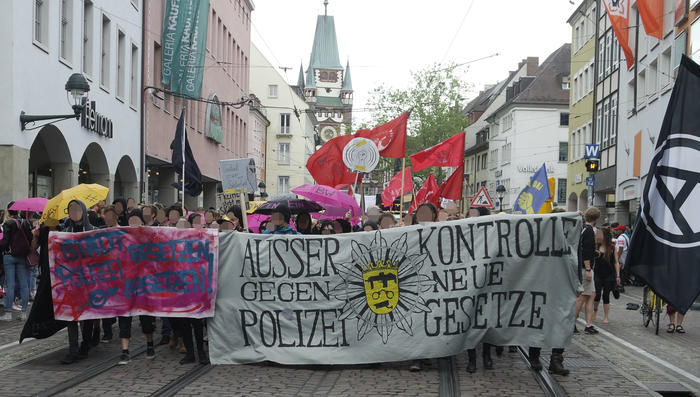 Greeting from prisoner Thomas Meyer-Falk to the demo against the new police law in Freiburg
25.05.2019 You can listen in here (German / rdl.de)
#NoPolgBW campaign against the police lawThe local (BW) government is planning to pass a new police law giving the police more rights and tools for repression including trojans to hack your computer, jail without a court sentence, DNA analysis and more. There is a campaign forming against this planned law under the name #NoPolGBW.
More info about the topic
Dates
25.05.2019 Demo against the planned new police law in Freiburg
13.07.2018 Baden-Württemberg wide demo against the new police law