Here we'll publish articles by us and you. If you want to publish something here on our blog, send us an (encrypted!) email.
09.04.2019 NoPolGBW – no new police law in Baden-Württemberg!


The local (BW) government is planning to pass a new police law giving the police more rights and tools for repression including trojans to hack your computer, jail without a court sentence, DNA analysis and more. There is a campaign forming against this planned law under the name #NoPolGBW. If you understand German there is a good summary by the

IMI

, Informationsstelle Militarisierung in Tübingen, what this is all about: "

Polizeigesetz Baden-Württemberg: Erneute Verschärfung? Unendlichkeitshaft, Onlinedurchsuchung, DNA-

18.03.2019 For a world free of cages! Banner action for the International Day of Political Prisoners in Freiburg in Breisgau
We found this article about a banner action at the International Day of Political Prisoners that we thought was worth sharing in a shortened version.
indymedia:
"For a world free of cages! Banner action for the International Day of Political Prisoners in Freiburg in BreisgauOn the ocassion of the International Day of Political Prisoners on the 18th of March 2019, two banners were dropped in Freiburg in solidarity with all people enduring prison and repression. […]Repression and prison are especially used against people based on skin colour, nationality, il_legalisation, wealth and political leanings. Prison thereby serves a societal function of projecting and distancing of unwanted people and behaviours and punishing them. However, security is not achieved through punishment and exclusion – rather, the state strengthens its monopoly of violence by criminalizing certain actions, thereby reproducing social hierarchies and injustices. The prison system is thus incapable of producing justice, but achieves the opposite.We do not want to dedicate this day "only" to so-called political prisoners, but to all people who experience repression and prison. Prison humiliates and individualizes, and is supposed to tear those affected out of their contexts and depoliticize them. All repression is political and to recognize this is an important step towards a comprehensive criticism of punishment and the state. We strive for a world in which no jails are needed!"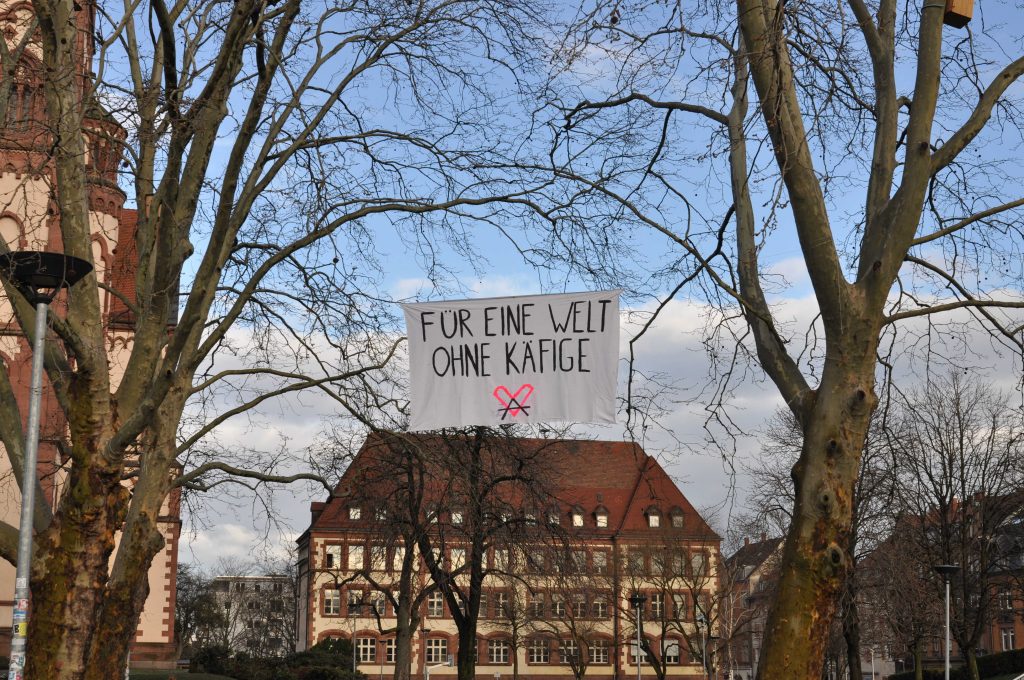 18.02.2019 Kerpen (close to Cologne): Second day of trial against Hambi prisoner Eule
hambacherwald.org: After more than four month of pre-trial prison the trial against Eule started in February 4th. Eule is being charged for assaulting an officer (§114 Abs 1 StGB, §§ 224 Abs 1 Ziffer 2, 22, 23, 52 StGB.). Eule is still in prison and the trial will continue on the 18th at local court Kerpen. Write letters to Eule! Infos can be found here.
Trial: Monday, 18.02.2019, 1pm at Amtsgericht Kerpen, Nordring 2–8, 50171 Kerpen
07.02.2019: Comrade of the Fermento in Zurich (CH) arrested and kept in pre-trial jail for three Month
fermento website:
3 Months of pretrial detention are now imposed on our comrade, with the following explanation: risk of flight and danger of collusion. Now he is in the district prison of Zurich BGZ. The risk of flight is being used as an argument because, among other things, another comrade is still on the run for the story of the radio station Waidberg.The imposition of 3 months of pretrial detention is the highest application unit, every three months pretrial detention has to be confirmed by law anew by a custodial judge. For the comrades that aren't familiar with the Swiss pretrial detention regime: in Switzerland it is common practice that pretrial detention has a quite long duration, sometimes even years. It is quite possible that they want to hold our comrade in prison till an eventual trial.If you want to write our arrested comrade, contact the anarchist library Fermento either directly, per email or post. However, letters that are about his case will be held back by the state prosecutor and not be handed out to him by the prison, the same goes usually for books and large publications.Anarchistische Bibliothek Fermento
Zweierstrasse 42
8005 Zürich
SwitzerlandEmail: bibliothek-fermento [ät] riseup.net".
01.02.2019: Nero finally free!
barrikade.info: 'After one and a half year behind bars in Berlin prisons for supposedly blinding a helicopter during riots in Rigaer Straße (squatted street in Berlin)'read more on barrikade.info (German) …Nero's letter from behind the bars (in German) can be found here.
 Dressing warm against repression
events during this winter in Freiburg

New trial date:
11.10.2018 Freiburg: NBA second instance trial
Trial takes place at Landgericht (provincial court) Freiburg, Salzstr. 28, Sitzungssaal 4, 1.OG, starting at 9 am.
As always: if you are searched for by the cops or took part in the NBA actions and haven't been caught. Dont show up.
September 2018:


Robin`s process is going into the second instance

The defendant Robin was convicted to a fine for supposed assault, but neither the defendant nor the prosecution was accepting the sentence.

So the defendent as well as the prosecution gave notice of appeal and the process will go into the second instance.

As soon as we know about the next trial date we will inform you.